April 24, 2008
Wesley Snipes sentenced to 3 years for tax fraud
Actor Wesley Snipes was sentenced to 3 years in prison Thursday for tax evasion.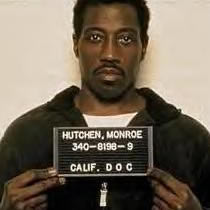 Snipes was convicted on three misdemeanor counts of failure to file federal income tax returns.
"This case presents the court with a singular opportunity to deter tax fraud nationwide," the government said in its sentencing recommendation.
Snipes, who has starred in movies such as "Blade," "Major League" and "Murder at 1600," had been charged with felony conspiracy counts for participating in a scheme that rejects the legal foundation of the tax system. However, a jury accepted his argument that he was innocently duped by errant tax advisers and acquitted him on the most serious charges.
"The fact that Snipes was acquitted on two felony charges and convicted 'only' on three misdemeanor counts has been portrayed in the mainstream media as a 'victory' for Snipes," the government document says.
"The troubling implication of such coverage for the millions of average citizens who are aware of this case is that the rich and famous Wesley Snipes has 'gotten away with it.' In the end the criminal conduct of Snipes must not be seen in such a light."
© AlaskaReport.com All Rights Reserved.






---