August 8, 2008
Kasatochi volcano erupts in Aleutians
The Alaska Volcano Observatory has issued a red alert for planes flying near the Kasatochi volcano in the Aleutian islands after a major eruption Thursday sent ash plume 45,000 feet into the air.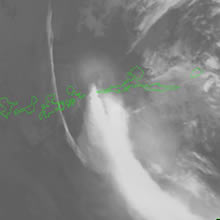 The 2-square-mile Kasatochi island about 50 miles west of Adak is uninhabited.
Kasatochi is one of three Aleutian volcanos currently erupting. Okmok began erupting July 12. Mount Cleveland erupted July 21.
Kasatochi Volcano Latest Observations
From the Alaska Volcano Observatory:
2008-08-08 08:38:17
The eruption of Kasatochi continues. Current satellite data shows a continuous ash plume extending in a counterclockwise spiral for about 600 miles (950 km). The NWS warning message for the ash cloud estimates the cloud altitude at 45,000 ft (13.7 km).
We note that once ash emissions became continuous (sometime after 0500 UTC), volcanic tremor recorded on the nearest seismometers on Great Sitkin has declined. This could be due to a more open system the allows ash emission at lower levels of tremor.
A possible thermal anomaly was noted in a recent satellite image suggesting that the eruption is on land and not through an ocean vent.
Coast Guard press release:
The Alaska Volcano Observatory has reported Kasatochi Volcano has erupted just east of Adak Island, an island in the Aleutian Islands chain, causing an ash cloud in the area at an approximate elevation of 45,000 feet.
Due to possible sub-surface eruption, numerous large pumice rafts, volcanic gases, or ash fallout may cause hazards to navigation. All mariners are urged to stay outside of seven nautical miles of Kasatochi Island and to use extreme caution while transiting that area.
© AlaskaReport.com All Rights Reserved.
---