August 9, 2008
Russia attacks Georgia in bombing campaign
"The city of Tskhinvali no longer exists"
Russian jets have killed at least 60 people in South Ossetia as bombs rained down on residential buildings as well as military targets.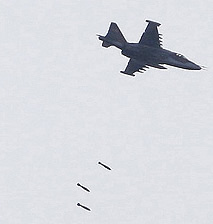 Georgia says 60 people died in Gori when the bombs hit residential buildings as well as military targets.
Russian officials say hundreds of civilians have been killed in South Ossetia. Georgia denies the figure, which cannot be independently verified.
Reports say Russian PM Vladimir Putin has stopped in Russia's North Ossetia region on his return from the Olympics.
He arrived in the capital Vladikavkaz to discuss the influx of refugees from the conflict in South Ossetia, Russian media said.
Russian President Dmitry Medvedev said earlier that his country was seeking "to force the Georgian side to peace".
Russia's ambassador to Nato, Dmitry Rogozin, said there could be no "consultations" with Georgia until Georgian forces returned to their positions and re-established "the status quo".
Accounts differ over who controls South Ossetia's capital, with Moscow saying it has "liberated" Tskhinvali.
In another development, separatists in Abkhazia - Georgia's other breakaway region - said they had launched air and artillery strikes on Georgian forces in the Kodori Gorge.
The crisis began spiralling when Georgian forces launched a surprise attack on Thursday night to regain control of South Ossetia, which has had de facto independence since the end of a civil war in 1992.
The move followed days of exchanges of heavy fire with the Russian-backed separatists.
In response to the Georgian crackdown, Moscow sent armoured units across the border into South Ossetia.
Speaking to Russian news agency Interfax, Russia's ambassador to Georgia, Vyacheslav Kovalenko, said on Saturday that 2,000 civilians and 13 Russian peacekeepers had been killed in Tskhinvali.
"The city of Tskhinvali no longer exists," he said. "It is gone. The Georgian military has destroyed it."
The International Red Cross (ICRC) said it had received reports that hospitals in the city were "overflowing" with casualties.
© AlaskaReport.com All Rights Reserved.
---