August 19, 2008
Don Young fund raiser rattles Seward
By Russell Freeman Stigall
When Don Young agreed to attend a private, machine-gun related fund raiser at the Lorenz-Lindsey property in Seward he seemed to have no idea who he was getting mixed up with.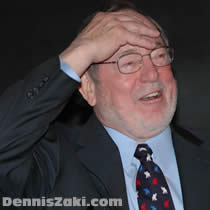 This is Lorenz's second Turkey Shoot, though first in the name of Young.
The first, at the same Nash Road property in 2006, featured Wayne Anthony Ross, former gubernatorial candidate and board member of the National Rifle Association.
The Shoot, held in a Seward suburb, startled pets and rattled nerves and windows miles away. Caught unaware, nearby neighbors called local police in alarm.
This, Lorenz's second biennial event, attracted none other than our lone congressman as he seeks reelection.
Had the Congressman cared to, even the most cursory investigation would have revealed that Lorenz and her property are tainted by a well-earned local infamy.
Buoyed by campaign contributions from the owner of a local contaminated shipyard, Lorenz spent one controversial term as city councilwoman. The politically-influential shipyard owner has been found to be the largest polluter on Resurrection Bay.
Besides dumping cash in Lorenz's campaign coffers, the shipyard also dumped contaminated waste on the Lorenz' property at her request to be used as free fill. Industrial waste of this sort is typically shipped to the lined landfill in Kenai, the only legal disposal facility on the peninsula.
Local, state, and federal authorities and regulators have spent years and many thousands of dollars getting the shipyard's and Lorenz' properties assessed and cleaned up.
The shipyard still resists compliance.
Reportedly there is still contaminated shipyard waste buried on the Lorenz' property. However, Lorenz' won't allow access to Environmental Protection Agency and Alaska Department of Environmental Conservation regulators to investigate.
These nefarious ties sullied Lorenz's defense of the shipyard, in spite of ongoing EPA and DEC investigations, from her seat on council while the city considered renewing the shipyard's 5-year lease. The agencies were and are investigating the shipyard's pollution and non-compliance.
Against recommendations from the sitting city manager, the city eventually granted the shipyard a new lease.
The Turkey Shoot/ Don Young Fund raiser on Thursday night once again featured machine guns and explosive targets in a residential area with children and pets in the vicinity. This bombardment continued for three hours interrupting the relative peace of a summer evening in Seward.
The police line was kept busy for hours since Lorenz and Young made only trite attempts to forewarn the surrounding families.
Automatic rifle fire and explosives may be legal outside city limits, but it is obviously reckless and inconsiderate of one's neighbors.
Young's endorsement of this event illustrates the Congressman's lack of consideration for non-donors and lack of judgment as from whom he accepts personal and campaign favors and contributions.
With the FBI shaking down Alaska's politicians and a Clean Elections measure gaining speed in the public mind, with ongoing questions about Lorenz-Lindsey family ties to Attorney Trevor McCabe, former Sen. Ted Stevens aide, in a deal that may have funneled Federal grants to buyout a failed real estate speculation, Young would benefit from cautious, considerate fund raising.
Anchorage got a free pig roast. Seward, a shootout. Pork, hot lead and money; vote for Don Young.
---
Russell Stigall was a reporter for the Phoenix LOG during the historical events of the story and wrote article about much of it. Stigall covered the shipyard, Lorenz-Lindsey's property and the Lindsey, MacCabe, SeaLife Center land deal.
---
---