Surprise! Petraeus report straight from Bush's mouth
September 7, 2007
Washington, DC - General David Petraeus will recommend to President Bush that current American force levels be maintained in Iraq through next spring regardless of the overwhelming evidence that the "surge" has been a failure and the civil war in Iraq is out of control.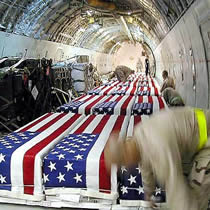 Under the current plan, if no adjustments are made, the number of U.S. troops would drop from more than 160,000 to around 130,000 beginning in March or April.
Currently there are some 168,000 troops in Iraq because of overlaps while some units swap out.
© AR News
---