Leyte Gulf catches fire in Norfolk shipyard
Contractors hurt in blaze
Norfolk, Virginia - The U.S.S. Leyte Gulf had a fire aboard Saturday morning that was quickly extinguished - but not before five civilian contractors were hurt.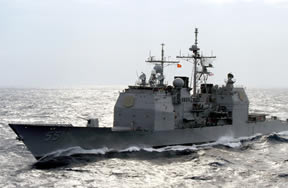 A large explosion at 9:29 AM came from the Navy ship's berthing area were some welding was going on. A reporter on the scene said fire was coming from two decks and some were suffering from smoke inhalation.
Five contractors were taken to Norfolk General Hospital with non-life-threatening injuries, said John Kowalczyk, a spokesman for BAE Systems Ship Repair, which was handling the work.
"It appears to be an isolated fire," he said, adding that there was no indication of terrorism. The guided-missile cruiser has been in the yard since May undergoing repairs.
USS Leyte Gulf (CG-55) is a Ticonderoga-class guided missile cruiser in the United States Navy. She was named in memory of the World War II Battle of Leyte Gulf in the Pacific. She is powered by four large gas-turbine engines, and she has a large complement of guided missiles for air defense, attack of surface targets, and ashore, and anti-submarine warfare (ASW). In addition, she carries two "Seahawk" LAMPS multi-purpose helicopters.
© AR News
---