Michael Vick caught with positive marijuana test
September 26, 2007
Virginia - Dogfighting NFL quarterback Michael Vick is now confined to house arrest after he tested positive for marijuana use.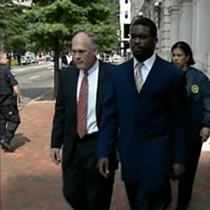 A court document from the Eastern District of Virginia shows that Vick submitted a urine sample on Sept. 13 that tested positive for the drug.
Judge Henry E. Hudson restricted Vick to his home every day from 10 p.m. to 6 a.m. at the request of probation officer Patricia Locket-Ross.
Vick will be required to wear an electronic monitoring device to ensure his compliance with the order, court documents said.
As a result, Judge Hudson ordered Vick to "submit to any method of testing required by the pretrial services officer or the supervising officer for determining whether the defendant is using a prohibited substance."
Those methods could include random drug testing, a remote alcohol testing system "and/or any form of prohibited substance screening or testing," the order said.
© AR News
---