September 4, 2008
Palin claims to be reformer, but will she vote for indicted senator Stevens this November?
From a Alaska Democratic Party press release
As Governor Sarah Palin prepares to take the national spotlight tonight on claims that she is a reformer who fought corruption in Alaska , where will she be on the reelection of indicted Senator Ted Stevens? Earlier this summer, Governor Palin appeared ready to endorse Senator Stevens for re-election, but in her new role as Senator John McCain's presumed running mate, will she prove to be a true reformer or continue to support Stevens as he faces seven felony criminal charges?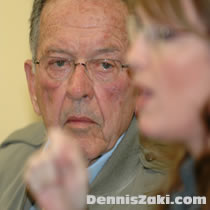 "Governor Palin can't have it both ways," said Bethany Lesser, spokeswoman for the Alaska Democratic Party. "Palin claims to spearhead reform in Alaska , rooting out corruption. But so far, she has stood steadfast by indicted Senator Stevens' side. Alaskans and the nation deserve to know once and for all - where does Palin stand on Stevens for Senate?"
After Senator McCain tapped Palin, Senator Lindsey Graham explained the choice saying, ".it just wowed him beyond belief that she would take this group of people on. When you think about it, all the battles between him and Ted [Stevens, the Alaska senator under investigation for corruption] ... he saw in her a lot of himself."
New York Times columnist David Brooks elaborated, explaining, "McCain was meeting a woman who risked her career taking on the corrupt Republican establishment in her own state, who twice defeated the oil companies, who made mortal enemies of the two people McCain has always held up as the carriers of the pork-barrel disease: Young and Stevens." Yet over the last few months, Alaskans have seen different responses from Governor Palin on this issue.
Meanwhile, this summer Alaskans saw the "Ted and Sarah Show." In July, Palin and Stevens sat side-by-side discussing energy. Stevens called this, ".the first edition of the Sarah and Ted show, I hope it will continue." Palin also served as an original incorporator and a director of The Ted Stevens Excellence in Public Service '527,' a group that could raise unlimited amounts from corporation and individuals outside federal limits.
On July 10, State Senator John Cowdery was the latest on a string of indictments in Alaska . Palin immediately called for his resignation. Twenty days later, Stevens was indicted on seven felony counts related to accepting illegal gifts. When asked if Stevens should resign, Plain replied that it, "would be premature at this point." Alaskans received no explanation of why Stevens would be different from any other indicted elected official in Alaska.
On the other hand, Senator John McCain, after learning of Stevens' indictment, quickly donated campaign dollars given by Stevens to the Flight 93 National Memorial. McCain's campaign released a statement saying, "Senator McCain and Senator Stevens have clashed famously over the appropriations process, which Senator McCain views as broken and subject to the type of corruption that has caused voters to lose faith with Washington, and as Senator McCain mentions on the campaign trail nearly daily, has resulted in former members of congress residing in prison."
"Now that Palin is on the Presidential ticket, Alaskans and the nation deserve to know if she intends to continue supporting indicted Senator Stevens," Lesser said.
---