Ted Stevens & Corruption: Move Over Duke Cunningham
8/24/06
Kodiak, Alaska - The Anchorage Daily News ran a story titled, "Attorney selection steams Stevens." The appointment of Nelson Cohen as the new United States Attorney General for Alaska has greatly upset U.S. Senator Ted Stevens (R-AK). Ted's probably upset for good reasons: Adak Pollock, real estate deals, earmarks, and legislative end-runs in fisheries management and rights allocations (crab rationalization and other nefarious giveaways).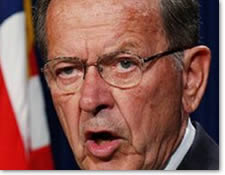 Cohen was the chief of the White Collar Crime Division when he served as the assistant attorney general for the United States in Pennsylvania.
For many years, Groundswell has been asking federal special agents from multiple agencies for assistance in ensuring that Alaska gets a new US AG who is not part of the Alaska crony and political damage control system. We suspected something was seriously wrong when former U.S. attorney general Timothy Burgess failed to prosecute the Adak Crab Allocation perjury charges, after Larry Davison and I filed a federal petition in 2003. And amazingly, Burgess soon got a judgeship.
Anytime Burgess wants to provide answers to this situation, he can start (please) by answering publicly "Why did the US AG office fail to prosecute the Adak Crab Allocation perjury and the multiple counts?" And, "Why, once the federal agents found the plan in writing to break through the crab caps, did the US AG office not prosecute Dr. Terry L. Leitzell, chief counsel for Icicle Seafoods?"
An earlier Groundswell article mentions Burgess' close association with Alaska's powerful Republicans, and how crooked we feel those powerhouse players have been. No wonder Ted is deeply upset that the White House has begun to correct that "inside" bias, and ensure that Ted Stevens is no longer "in control of" the Justice department here, too. It's enough he headed the fourth branch of government, Appropriations, and still runs the Senate Commerce show.
Our Writ of Mandamus, an extraordinary writ to command the National Marine Fisheries Service's general counsel office to properly handle a perjury (false testimony) before the North Pacific Fisheries Management Council was filed on January 13, 2003, in the Western District of the United States Court in Seattle, Washington. We served the pro se (we wrote it and filed it) writ (for injunctive relief) on then U.S. Attorney General John Ashcroft in Washington D.C.
The NOAA Office of Law Enforcement soon began a criminal investigation regarding Adak. Eventually, the largest fine in NOAA history was levied against Icicle Seafoods, Adak Fisheries and related parties, yet the $3.44 million Notice of Violation and Assessment has still not been finalized. We are awaiting word from the government, after an appeal occurred this past January before an administrative judge, in Seattle. What was remarkable, though, was the number of counts left on the table when only the crab cap violation (breaking rules under the American Fisheries Act) was handled. And you've read from John Enge's pieces that crab fishermen have talked with federal agents who were upset, too, that the other counts went nowhere.
Here's a reminder of how to properly deal with institutionalized corruption: "March 3, 2006, SAN DIEGO, California (CNN) -- Former GOP Congressman Randy "Duke" Cunningham was sentenced Friday to eight years and four months in federal prison for taking $2.4 million in bribes from at least three defense contractors. "House Speaker and fellow Republican Dennis Hastert issued a statement after Cunningham's sentencing stating that he hopes the congressman's prison term sends "a strong message" that nobody is above the law. "It is my hope that Congressman Cunningham will spend his incarceration thinking long and hard about how he broke the trust of the voters that elected him and those on Capitol Hill who served with him," Hastert said."
Groundswell's advice is that Ted should be out buying new stationary, and the return address should say Cellblock 666, Leavenworth County, Kansas.

See Writ here
---
Stephen Taufen - Groundswell Fisheries Movement



A public watchdog and advocate for fishermen and their coastal communities. Taufen is an "insider" who blew the whistle on the international profit laundering between global affiliates of North Pacific seafood companies, who use illicit accounting to deny the USA the proper taxes on seafood trade. The same practices are used to lower ex-vessel prices to the fleets, and to bleed monies from our regional economy. Contact Stephen Taufen

© AlaskaReport
---