Mitt Romney says Guantanamo Bay is great
June 23, 2007
Washington, D.C. - Mitt Romney, a Republican presidential candidate, said the Bush administration is wrong for looking at ways to close the detention center at Guantanamo Bay, Cuba, calling the idea "the wrong course to take".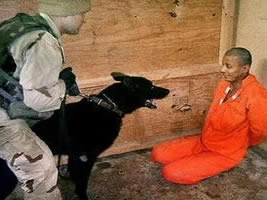 Romney told reporters in Helena, Montana, "Guantanamo Bay plays an important role in protecting our nation from violent, heinous terrorists."
The former Massachusetts governor said, "I hope the administration does not take the course which is being contemplated." And singling out John McCain supporting shutting down the facility, Romney said, "I think Guantanamo is great a symbol of our resolve."
Romney said detainees should not have access to lawyers or to U.S. constitutional rights, saying "they are terrorists."
"I do not want to see those prisoners transferred to United States soil," he said. "I do not want to see the legal system in this country potentially opened up to terrorists and feel we're better keeping Guantanamo in place. And if we need additional space, why, we should be expanding Guantanamo."
At a presidential debate in May, Romney said, "My view is, we ought to double Guantanamo."
At Friday's White House briefing, spokeswoman Dana Perino said no resolution on closing Guantanamo Bay was imminent, saying "that while the president has said that we want to make sure that we close this facility as quickly as possible, he's not put a deadline on it because there are complex issues. We have to make sure that we handle it appropriately."
She said a meeting scheduled on Guantanamo Bay was canceled after an Associated Press report said a deal was close, but Perino said, "the meeting was going to be focusing on doing what the president has asked them to do for the past few years, which is work to get the facility closed. I think that report was overblown. There was not an imminent decision made. There's no deadline. It was just a regular meeting."
While stopping short of promising a resolution, Perino said the administration's goal for Guantanamo's ultimate future is clear. "It has been a firm decision", she said, "The president gave a firm decision two years ago, in which he said "I want this place closed"; that the United States should not be the world's jailers. Those are his words."
© AlaskaReport News
---