White House liars cooking up "withdrawal of forces" stories
June 25, 2007
By Dennis Zaki - In a videoconference Friday with Pentagon reporters, a top commander for U.S. forces discussed a possible withdrawal of U.S. troops from Iraq by next year. If it seems like you've heard this phony story before, you have, for four straight years.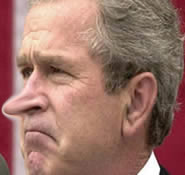 Lapdog-of-the-week Lt. General Raymond Odierno gave the well rehearsed Bush administration's song-and-dance "if the political process continues to go positively..."
"If the Iraqi security forces continue to improve and we are successful, there is a potential that we could withdraw by the spring." - Odierno.
Odierno spoke after another hellish week for American forces in Iraq: 30 more American Soldier deaths were reported since last Sunday, including 11 on Saturday alone. This brings the number of U.S. military deaths in the war to 3,558 and 81 in June.
This has Dick Cheney's greasy fingerprints all over it.
Have a look at some stories below - see if you can figure out a pattern.
SAME STORY A YEAR AGO TODAY:
U.S. general in Iraq outlines troop cuts
Michael R. Gordon The New York Times
Published: June 25, 2006
WASHINGTON The top American commander in Iraq has drafted a plan that projects sharp reductions in the United States military presence there by the end of 2007, with the first cuts coming this September, American officials say.
American officials emphasized that any withdrawals would depend on continued progress, including the development of competent Iraqi security forces, a reduction in Sunni Arab hostility toward the new Iraqi government and the assumption that the insurgency will not expand beyond Iraq's six central provinces. Even so, the projected troop withdrawals in 2007 are more significant than many experts had expected.
TWO YEARS AGO:
U.S. Signals Spring Start for Pullout
General Restates Position, Noting Contingencies, During Rumsfeld Visit to Baghdad
By Ann Scott Tyson and Ellen Knickmeyer
Washington Post Staff Writers
Thursday, July 28, 2005; Page A18
BAGHDAD, July 27 -- The top U.S. military leader in Iraq said Wednesday there could be substantial withdrawals of some of the 135,000 U.S. troops in the country as early as next spring. "If the political process continues to go positively, and if the development of the security forces continues to go as it is going, I do believe we'll still be able to take some fairly substantial reductions after these elections in the spring and summer," Casey said before meeting with Jafari.
THREE YEARS AGO:
Building Iraqi Security Forces Must Continue, Sanchez Says
By John D. Banusiewicz
American Forces Press Service
WASHINGTON, April 11, 2004 - The commander of coalition forces in Iraq said today that continuing to build Iraqi security forces is key to a successful transfer of sovereignty.
Handing over security to the Iraqi people will depend upon the coalition's ability to quickly stand up Iraqi security forces, especially the police, the army and the Iraqi Civil Defense Corps.
This involves building the security forces in small units and police stations to provide the law and order in the cities, he said, and also giving Iraq the external security capacity it will need over the next couple of years. "I think it's going to take us awhile," he said, "but we're committed to it, and we'll be here until that's done."
Sanchez said the 129,000 U.S. service members currently in Iraq are an adequate number, "and we'll manage their redeployment as the operational and tactical situation dictates."
Is there a pattern of lying here, or is it just me?



Del.icio.us

reddit
© AlaskaReport News
---