Republicans Lugar, Voinovich revolt against Bush on Iraq
June 26, 2007
Washington, D.C. - Republican senator George Voinovich broke with the Bush administration over Iraq on Tuesday, warning that the United States must began planning for a "responsible military disengagement" from the 4-year-old conflict.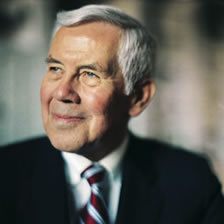 "I think everybody knows that we fumbled the ball right from the beginning on this," Sen. George Voinovich, of Ohio, said. "And I think that one way they can make up for it is to say we're going to do this disengagement in a comprehensive way, involve the world community, make sure that area is stabilized and that we don't end up with chaos and a civil war."
Voinovich laid out his plan in a letter to President Bush the day after Indiana's Richard Lugar, the ranking Republican on the Senate Foreign Relations Committee, warned Bush that the current U.S. campaign to stabilize Iraq is unlikely to achieve results in the time left by flagging public support at home.
"The president and some of his advisors may be tempted to pursue the 'surge' strategy to the end of his administration, but such a course contains extreme risks for United States national security," he said.
Republican support for President Bush's Iraq war policy suffered a significant crack Monday evening, when Sen. Richard Lugar of Indiana, a well-respected GOP voice on foreign affairs, took to the Senate floor to urge the president to change course in Iraq "very soon" to avoid further damage to America's military readiness and long-term national security.
"Our course in Iraq has lost contact with our vital national security interests in the Middle East and beyond. Our continuing absorption with military activities in Iraq is limiting our diplomatic assertiveness there and elsewhere in the world," he said.
Lugar, the ranking Republican on the Senate Foreign Relations Committee, also sounded a pessimistic note on the prospects for internal political progress in Iraq, saying he sees "no convincing evidence that Iraqis will make the compromises necessary to solidify a functioning government and society, even if we reduce violence to a point that allows for some political and economic normalcy."
© AlaskaReport News
---