Bill Clinton also says Libby pardon a farce
July 5, 2007
Des Moines, Iowa - Former President Bill Clinton says President Bush's decision to spare ex-White House aide Lewis "Scooter" Libby from prison differed from his own administration's pardon controversy.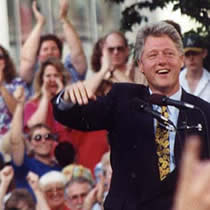 "You've got to understand, this is consistent with their philosophy," Clinton said during an interview on Des Moines news-talk station WHO. Bush administration officials, he said, "believe that they should be able to do what they want to do, and that the law is a minor obstacle."
"It's wrong to out that C.I.A. agent and wrong to try to cover it up," Mr. Clinton added. "And no one was ever fired from the White House for doing it."
President Bush on Monday commuted Libby's 30-month sentence for perjury, obstruction of justice and lying to federal agents investigating the 2003 exposure of former CIA operative Valerie Plame Wilson. Bush's order let the verdicts stand, but he called Libby's prison sentence "excessive" and eliminated it completely.
Clinton's wife, Sen. Hillary Rodham Clinton, is now seeking the presidency and has been campaigning in Iowa during the Independence Day holiday. She put him on the phone during a Tuesday interview with Iowa political columnist David Yepsen.
© AlaskaReport News
---