Don Young involved in shady land deal, Alaska Congressman helps Florida developer after fund raiser
7/14/06
Ft. Myers, Florida - "This is a travesty of our congress."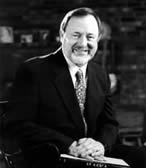 Says local homeowner Phil Douglas, talking about a proposed project on one of Florida state's most used highways, Interstate 75. The project is a 10 million dollar study of whether a new exit should be added to I-75.

Lee County Commissioner Ray Judah says the unusual part is the state didn't ask for the study or the money. It was inserted into the budget by Alaska Congressman Don Young. "It was rather unusual this money became available."

"This interchange was at a location where it would also connect across six sections of land east of 1-75 owned by Mr. Dan Aronoff otherwise known as Edison farms."

Developer Dan Aronoff wants to build an 8000 home community on environmentally sensitive land east of I-75 near Ft.Myers. Phil Douglas says it will ruin the area. "I love the community I want to do what I can to preserve my quality of life."

But in order to preserve that quality of life Douglas and others opposed to the project will have to fight a developer who stands to make a huge amount of money.

And at first glance it doesn't make any sense why Alaska congressman Don Young would earmark $10 million for a Florida project that not one single elected official in the state of Florida had asked for, but commissioner Judah says it comes into focus when you learn there was fund raiser for young at this Hyatt outside Ft. Myers that raised more than $41,000 in campaign contributions. And Judah says one of the major organizers of the fundraiser is Dan Aronoff. He's the developer who stands to profit if the interchange is built.

"You're going to have to connect the dots. There's no question in my mind. All of a sudden this $10 million comes out of nowhere. There is a relationship between Mr. Aronoff and the money he has raised for Don Young."

And when Judah asked if the money could be used for other transportation projects he was warned not to go there.

"We actually would potentially compromise the ability to receive those $10 million but also it could hurt the opportunity to receive federal funds in future years for other projects. No question there was a lot of pressure."

And while no one from the developer or from Congressman Don Young's office would comment on the deal, those opposed say Young should be ashamed.

Judah –"I think there should be outrage by taxpayers."

"To put $10 million in the budget in an area he has not interest in except to get further political payback from contributors. It is a travesty and it should stop immediately."
© AlaskaReport News
---