Former Alaska Legislator Tom Anderson Convicted Of Corruption
July 9, 2007
Anchorage, Alaska - Former legislator Tom Anderson was convicted of seven charges that include conspiracy to commit extortion, bribery and money laundering.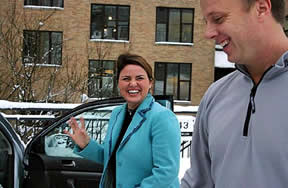 A jury on Monday found "Corrupt Bastard Club" member Tom Anderson, 39, guilty on all seven counts connected to claims he took bribes he thought were coming from a private prison firm while in office.
The verdict was delivered by an 11-person jury at 1:40 p.m. Monday afternoon. The jurors only took a half day of deliberations on Friday and another half day Monday to find Anderson guilty.
If convicted on all counts, Anderson faces maximum penalties of 115 years in jail and over $2 million in fines.
"My statement is: I'm devastated and it's not accurate what the verdict is," Anderson said after the verdict.
Anderson showed no remorse after his conviction and said "The prosecution has criminalized being a legislator over this past year. And I think I fell victim to that".
Sentencing was scheduled for Oct. 2.
Quick facts
The case was prosecuted by lawyers from the Public Integrity Section of the U.S. Department of Justice.
Anderson's wife is Alaska state Senator Lesil McGuire.
Anderson was indicted by a federal grand jury in December of 2006.
Related Stories:
Vic Kohring resigns under pressure of indictments

VECO head pleads to bribes to Ben Stevens and cohorts

State Rep. Anderson arrested for corruption
© AlaskaReport News
---