Don Young picnic targeted by protesters
August 14, 2007
Anchorage, Alaska - Alaska congressman Don Young was heckled by protesters throughout a public picnic he held Monday afternoon in Anchorage.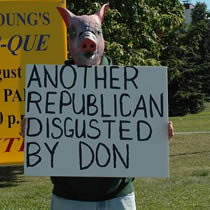 Young is running for re-election and under multiple criminal investigations for bribery and corruption.
Young arrived about 2 1/2 hours late to his meet-and-greet salmon bake picnic held near the downtown area of Anchorage.
The congressman was heckled from the moment he showed up. About 50 protesters from around the park swarmed his tent and mercilessly shouted "FBI! FBI!" and "The cook is a crook!"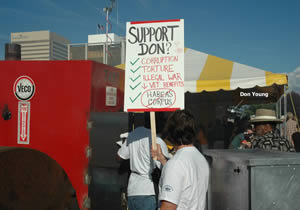 About half a dozen supporters of Young were at the picnic and tried to shout down the protesters. The supporters refused to give their names and hid their faces when a camera was pointed at them.
Near the end of the picnic, around 20 kids, egged on by one of Young's supporters, started picking up signs and joining the crowd. Most were screaming "Young is Bung." Nobody knew what it meant - including the kids - but it added some laughter to the festivities. The kids also shouted "The cook is a crook!", oblivious that is was meant for Young.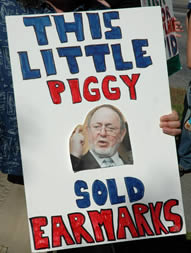 VECO Corp., a company under investigation for bribing Young and other Alaska lawmakers, supplied one of the grills to his picnic, Young's aide said the grills were rentals and will be paid for by the campaign.
One of the few comments Young made was after a reporter asked him if he had done anything wrong. Young said "The Lord is with me."
© AlaskaReport News
---
Related Stories:
Alaska Republican Congressman Don Young in serious legal trouble

It would be irresponsible not to investigate Don Young and Ted Stevens

Don Young involved in shady land deal, Alaska Congressman helps Florida developer after fund raiser

Don Young's Former Aide Pleads Guilty To Corruption

Alaska Congressman Young probed by FBI in pay-off scheme

Don Young caught lying about debate over emissions bill

Ted Stevens and Don Young Fail to Provide 'Honest Services'
Don Young dances a jig while protesters scream "FBI! FBI!" at him.
---