Alaska fishermen scream at Ted Stevens in Kodiak
August 19, 2007
Kodiak, Alaska - Alaska Sen. Ted Stevens and Hawaii Sen. Daniel Inouye were greeted by an angry group of around 30 commercial fishermen protesting crab rationalization and Stevens' involvement in federal fisheries issues at a luncheon sponsored by the Kodiak Chamber of Commerce.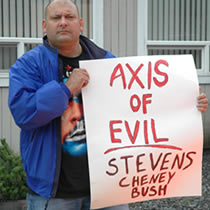 Stevens, under multiple criminal investigations for corruption, kept his head low and walked briskly into the Kodiak Inn Hotel after arriving about 10 minutes late.
The protesters shouted "Racketeer go home!" "Give it back" and "FBI" among others.
Casey Kelly at Kodiak's local radio station KMXT interviewed some of the protesters. (Listen Here).
The mayor of Kodiak Carolyn Floyd, Al Burch, Julie Bonney, were among 45 people that attended the lunchtime gathering.
© By Dennis Zaki - AlaskaReport News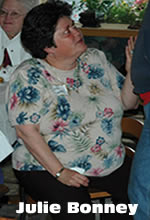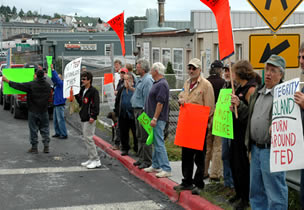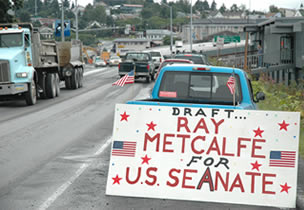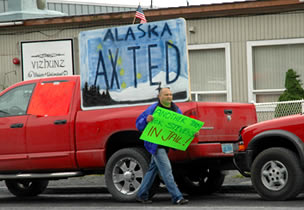 Alaska fishermen shout at Ted Stevens in Kodiak, Alaska
---