Does Rupert Murdoch's DIRECTV Own Alaska Senator Ted Stevens?
7/24/06
Washington, D.C.
Sen. Ted Stevens (R-Alaska), the powerful chairman of the Senate Commerce Committee, is pushing legislation that could give the Rupert Murdoch owned-DIRECTV a huge advantage over the cable TV industry.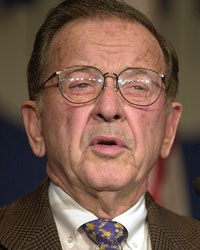 Stevens has not explained why he supports the legislation, but nearly 10 percent of the senator's 2005-2006 individual campaign contributions have come from employees of companies owned by Murdoch, such as News Corp., Fox and DIRECTV.
In addition:
* On one day alone (June 6, 2005), Murdoch employees gave $28,000 to Stevens' campaign, according to Federal Election Commission (FEC) records.
* Of the 38 total Murdoch employees who have donated to Stevens, 27 of them have not contributed to any other candidate in this election cycle; most of the remaining 11 have donated to liberal Democrats. Stevens is a conservative Republican. (Corporations often 'encourage' their most loyal employees to donate to certain candidates to take advantage of an election law loophole; see below.)
* News Corp. -- and employees who work for News Corp-owned companies -- has donated more money to Stevens' campaign than any other company, according to a TVPredictions.com analysis of the FEC records. (Stevens is up for re-election in 2008.)
Federal campaign law prohibits a company from contributing more than $5,000 to a single candidate per election. But the law permits each company employee to donate up to $2100 individually, with no limits on total company employee contributions. This loophole allows a company to significantly increase its total contributions to -- and influence with -- a single lawmaker.
How DIRECTV Would Be Helped
As Senate Commerce Committee Chairman, Stevens is sponsoring a new telecommunications bill that would require cable TV operators to carry all Digital TV signals from local stations; this is known as 'must-carry.'
The cable industry wants to only carry the station's primary feed, saying the extra digital signals would take up too much space on their systems. (The primary feed would offer primetime network programming and other regularly scheduled shows; the extra feeds might include special channels for local weather broadcasts and Video on Demand services.)
But Multichannel News' Ted Hearn reports in this week's issue that Stevens has inserted language in the bill that cable operators would have to carry "any digital video signal." The magazine quotes Stevens as saying the new language is intended to impose digital 'must-carry' on the cable operators.
But what about the satellite TV providers, EchoStar and the Murdoch-owned DIRECTV?
Multichannel News reports that Stevens' aides blocked an amendment by Sen. Jim DeMint (R-S.C.) that would permit both cable and satellite TV operators to carry just the "primary video" feed rather than "any digital video signal."
Consequently, as Stevens' bill now stands, cable TV operators would be required to carry all local Digital TV signals while DIRECTV and EchoStar would not. If the language becomes law, this would give the satellite TV operators more flexibility in what channels and services they want to offer.
It also could save DIRECTV and EchoStar considerable money because they wouldn't have to create space for the extra channels.
Stevens' bill still has a long way to go before it becomes law. But Murdoch and his employees at DIRECTV could hardly have improved on the language. Multichannel News quotes broadcast legal experts as saying it would also help Federal Communications Commission Chairman Kevin Martin's efforts to impose must-carry on the cable industry.
Martin was preparing to call for a FCC vote on must-carry last month until asked not to do so by Stevens, according to published reports. (Stevens denies intervening.) Multichannel News reports that Stevens wanted to first include the must-carry language in his telecommunications bill.
Stevens' actions might tempt some to suggest that he's paying Murdoch back for his company's generous contributions. However, lawmakers usually dispute such charges by saying they are not influenced by who donates and who doesn't.
In addition to the employee contributions, News Corp. made a $5,000 corporate contribution to Stevens' campaign in 2005, the maximum allowed under law.
(The National Association of Broadcasters, whose members also stand to benefit from the must-carry provision, made a $5,000 contribution to Stevens as well. The National Cable & Telecommunications Association, which opposes must-carry, donated just $2,000 to the senator's campaign.)
Murdoch company employees who donated to Stevens include Murdoch himself ($2,000). Peter Chemin, News Corp.'s president, donated $1,000. Andrew Reinsdorf, DIRECTV's vice president of government relations, also gave $1,000; Susan Eid, another DIRECTV vice president of government relations, gave $2,000.
Ed Goren, Fox Sports' president, donated $1,000 as did Peter Liguori, Fox's president of entertainment.
According to FEC records, Stevens reports receiving $393,600 in individual campaign contributions from January 1, 2005 to March 31, 2006. Employees of Murdoch owned companies donated $38,000 of that amount during that time period.
By Phillip Swann