Money, Influence, and Ethics:
Ted Stevens ethics questioned in new report
8/3/06
Washington, D.C.
When a lobbyist like Timothy McKeever sits down to discuss appropriations bills with lawmakers, he has what seems like a distinct advantage. For the past 25 years, McKeever has been treasurer of the campaign committee of Sen. Ted Stevens, the Alaska Republican who is a powerful member of the Appropriations Committee.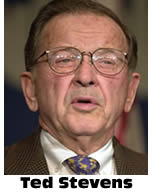 As someone who has signed off on $4.2 million in contributions to the campaign committee just since 1999, McKeever is obviously trusted by Stevens. McKeever had also served as Stevens's chief of staff. But McKeever insists there is no conflict of interest and says he rarely lobbies Stevens.
Yet in 2003, McKeever lobbied on behalf of Arctic Storm Management Group, a commercial fishing company, on a Senate appropriations bill. Part of the legislation, which was authored by Stevens--then chair of the Appropriations Committee--would have opened up new areas to fishing and changed habitat protection rules in the North Pacific Ocean, moves that were opposed by environmentalists but supported by the commercial fishing industry.
Stevens's office said industry leaders and environmentalists were thoroughly consulted on those provisions, most of which passed. But even the appearance of a quid pro quo has ethics watchdogs outraged about the dozens of lobbyists, like McKeever, who play dual roles as both lobbyists and treasurers of campaign committees. These arrangements, which have only recently drawn attention, are completely legal but unethically cozy, according to critics, because the same person potentially trying to influence lawmakers on legislation is also overseeing the donations that bankroll their campaigns.
Indentured servants? "It creates a huge conflict of interest for the members of Congress," says Alex Knott of the Center for Public Integrity. "They are going to be indentured to these lobbyists because they often rely on them for campaign fundraising." Lobbyists have served as treasurers of at least 68 campaign committees or joint campaign committees with other members since 1998, according to the center. It's unclear whether the number is increasing because reform groups have just started to track these relationships.
Aaron Saunders, a spokesman for Stevens, declined to comment on McKeever. But Saunders said Stevens included the provisions in the bill because they were supported by the state of Alaska and the council that oversees the region's fishery management. The most controversial provision was eventually removed from the bill. McKeever said he couldn't comment on his lobbying because of attorney-client confidentiality but said his role as treasurer of Stevens's campaign boils down to accounting. "I oversee the filing of Federal Election Commission reports and compliance with federal election law," says McKeever, whose law firm is paid by Stevens's campaign committee for campaign management--including McKeever's duties as treasurer.
The Stevens-McKeever relationship is not the only one raising eyebrows. Lobbyist Gregg Melinson is the campaign treasurer for Republican Sen. Rick Santorum of Pennsylvania. In 2000, Santorum introduced a bill to give tax credits for investing in low-income neighborhoods, a proposal supported by the National Community Capital Association, one of Melinson's clients at the time. Melinson said he was not very involved with lobbying for the association and saw no conflict of interest. Virginia Davis, a spokeswoman for the Santorum campaign, said the bill was consistent with the senator's support for tax incentives to help local economies.
A number of lobbyists also serve as treasurers of political action committees, or PACs, which collect money for specific issues or members. Since 1998, registered lobbyists have served as treasurers of at least 868 PACs, according to the Center for Public Integrity.
Numbers game. And some lobbyists act as treasurers for more than one campaign committee or PAC at a time. Lobbyist William Oldaker, a former general counsel to the FEC, has served as treasurer of 23 political campaign committees since 1998, according to the center. Oldaker currently serves as treasurer of the joint campaign committees of Senate Democrats Max Baucus of Montana and Edward Kennedy of Massachusetts. He's registered to lobby for such big-league clients as Philip Morris.
The head of one D.C. lobbying firm told U.S. News that he doesn't encourage the practice, calling it a "risky arrangement" that could ruin the relationship if the lobbyist makes a mistake that results in a fine. "These members don't hire you unless they already know you and trust you," he said. "It's a pre-existing relationship that gets more complicated."
None of the lobbying reform proposals being considered by Congress address this arrangement, though Common Cause tried to get lawmakers to prohibit the practice. Dennis Thompson, a government ethics professor at Harvard University, says there should at least be a "cooling off" period between active lobbying and service as a campaign treasurer. "Dual roles are always suspect," says Thompson, "and this ought to raise red flags."
By Danielle Knight - US News & World Report