October 9, 2009
New Photos Reveal Extreme Bycatch of Crab in Kodiak Island Trawl Fisheries
From a Alaska Marine Conservation Council press release:
Today the North Pacific Fishery Management Council received new photos showing high numbers of Tanner crab on a trawl vessel fishing for groundfish. The photos were taken by crew on an undisclosed trawl vessel operating off Kodiak Island last summer. They reveal a level of wasteful bycatch considerably higher than what has been reported to fishery managers through the standard catch monitoring system.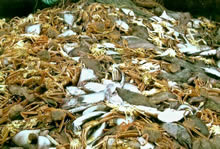 Over the last five years Kodiak Island fishermen and Alaska Marine Conservation Council (AMCC) have submitted proposals to the federal fishery body to reduce Tanner crab bycatch and protect seafloor habitat. A letter to federal fishery managers signed by 100 local fishermen was submitted for this meeting once again urging action on crab bycatch.
"These pictures are truly worth a thousand words. They demonstrate a problem more clearly than the statistical analysis that has so far masked a significant problem," said Alexus Kwachka, Kodiak fisherman who delivered the photos to the North Pacific Fishery Management Council. "Our goal is to protect the crab that support our local small boat fishery."
Today federal fishery managers voted to evaluate a range of potential management measures including expanding no-trawl zones to exclude bottom trawl operations from areas of biological importance to Tanner crab.
"We appreciate today's decision to pursue new conservation measures. The Tanner crab fishery is important for the diversified local fishing fleet on Kodiak Island and so it's important to consider the amount of bycatch as well as the seafloor habitat that crab and other species need to thrive," said Theresa Peterson, Kodiak fisherman and Alaska Marine Conservation Council coordinator.
A problem in Gulf of Alaska fisheries management is a lack of catch monitoring. Vessels from 60-124 feet in length fishing around Kodiak Island are required to carry certified observers 30% of the time. This lack of information may have masked a problem in the trawl fishery which drags gear on the seafloor catching most crab that it encounters.
There is also crab bycatch in vessels fishing cod with pots and a similar lack of data describing the amount of bycatch. To address their contribution to overall bycatch, fishermen are developing mechanisms in pot gear design to allow crab to escape before the gear is hauled to the surface.
In 2005 the North Pacific Fishery Management Council adopted certain measures to protect essential fish habitat based on a scientific determination that bottom trawl gear has the most impact on seafloor habitat. Reinforcing that determination is a study conducted by scientists at the NMFS Auke Bay Lab that measured differences between two areas closed to trawling around Kodiak Island compared to adjacent areas open to trawling. In this study they found the areas open to trawling to have less abundance of species and other features that form a living seafloor. (Stone, R., M.M. Masuda, and P.W. Malecha. 2005. Effects of bottom trawling on soft sediment epibenthic communities in the Gulf of Alaska. In: P.W. Barnes and J.P. Thomas (editors), Benthic Habitats and the Effects of Fishing. Am. Fish. Soc. Symposium 41. pp. 461-475.)
"We started out years ago mapping important crab areas combining local knowledge and scientific survey information. In the meantime management decisions have been made that facilitate increased bottom trawling around the island. So it has never been more important to find a way to reduce harm to crab and crab habitat," said Ms. Peterson.
For further information on the impacts of bottom trawling, please see: http://www.akmarine.org/our-work/conserve-fisheries-marine-life/impacts-of-bottom-trawling
© AlaskaReport.com All Rights Reserved.
---