December 01, 2009
Michele Linehan appeals murder conviction
Linehan sentenced to 99 years
Michele Linehan will get a hearing Thursday by the Alaska Court of Appeals to try to overturn her murder conspiracy conviction of commercial fisherman Kent Lupik in 1996.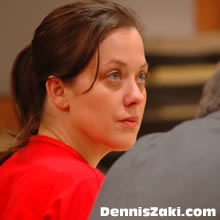 Linehan, convicted in 2007, was convicted of conspiring with a man in love with her to kill her fiance Lupik in 1996 for $1 million in insurance money.
Her lawyers claim she was wrongly convicted because of evidence allowed into the trial, including her job as a nude stripper at the Alaska Bush Company in Anchorage, Alaska.
The state is arguing that her job as a stripper was an important piece to the story of how she manipulated multiple men throughout her life.
The state also alleged that Linehan followed the plot of movie "The Last Seduction" because she was "obsessed with the film."
A former co-worker testified that Mechele told her that Linda Fiorentino's "character was her heroine and that she wanted to be just like her."
An insurance agent testified that Linehan tried to cancel the policy days before Leppink's death, then allegedly arranged for John Carlin to murder him to collect on the policy.
Carlin's son testified that his father had lied about not owning a .44 caliber Desert Eagle. Another witness also said that he sold a Desert Eagle in 1995, and left it at Carlin's house.
Linehan was sentenced to 99-years in 2007.
© AlaskaReport.com All Rights Reserved.
---