December 07, 2009
Iditarod experiences significant losses in funding
Iditarod Trail Committee press release:
In another reflection of our economic times, during the past 12 months the Iditarod Trail Committee has experienced a loss in funding of nearly $1 million dollars.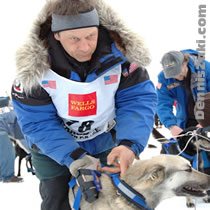 In late 2008, one media partnership and one significant reduction in sponsorship totaling $485,000 impacted the race. The top thirty finishers in the 2009 race felt the affect as prize money was reduced by $300,000, down from $925,000.
This past June the Iditarod Trail Committee (ITC) adopted an annual operating budget with cuts in spending of $319,000, most of which were in the form of personnel costs. More recently, additional cuts exceeding $200,000 have been made to reflect the loss of the media partnership and modifications to ITC's Insider Video on Demand project.
Within the past month, one other media partnership and two sponsorship deals were not renewed, totaling an additional loss of $455,000 in revenues. The ITC will make additional cuts to personnel and various other areas of the budget, including a $100,000 reduction in the 2010 prize money.
"We are not immune from the economic turmoil that is impacting many of our partners," said Stan Hooley, Executive Director of ITC. "I think there is the perception that we are on solid ground, but the truth is, at this moment in time we aren't where we need to be. We have 100 days until we get underway for the 38th time. I'm optimistic that between now and then we will be able to welcome some new companies to our current family of dedicated sponsors. There isn't a better time in our recent history for a sponsorship to be have a significant impact and be sincerely appreciated by those who are passionate about this race," added Hooley.
"One thing we know for sure is that excitement about the Iditarod remains at an all-time high and we will stage the world's premier sled dog race in March," said Lee Larsen, President of the ITC Board of Directors. "To all of our race fans who have supported this race, this year more than ever, we need your support by attending our banquets, subscribing to our online Insider Video on Demand and GPS Tracker services, purchasing raffle tickets and some of our great 2010 race merchandise. I look forward to the day that we can look back at this point in time and understand that these difficult times helped to galvanize our organization and the mushing community," added Larsen.
Iditarod XXXVIII will begin in downtown Anchorage on Saturday, March 6, 2009 at 10:00 a.m. at the corner of 4th Avenue and D Street.
© AlaskaReport.com All Rights Reserved.
---