March 16, 2010
Lance Mackey Wins Fourth Straight Iditarod
Fairbanks, Alaska musher Lance Mackey won his fourth consecutive Iditarod Trail Sled Dog Race Tuesday and became the first musher ever to do so.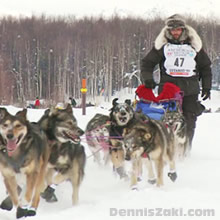 Before cheering crowds in downtown Nome, Mackey and his team of 11 dogs passed the finish line at 2:59 p.m Alaska Daylight time. Mackey earns $50,400 and a new Dodge truck for his victory.
Mackey was the first out of the checkpoint at Elim, Alaska, 123 miles from the finish. Hans Gatt left next, more than two and a half hours later and never had a chance.
"See you in Nome" said Mackey after he hit the trail for the final leg of the 1,100-mile Iditarod race.
Most of the front-runners were expected to reach the Nome finish line 77 miles from White Mountain on Tuesday afternoon.
Four-time Iditarod champion Jeff King of Denali Park remains stuck in third place.
Related Stories
Mackey pulls out great win in Nome (2009)
Lance Mackey the Iditarod race favorite (2008)
Iditarod Champion Lance Mackey talks dogs
Two-time Iditarod winner Lance Mackey discusses the qualities of a good sled dog. Shot at the start of the Iditarod in Willow, Alaska on March 8th, 2009 by Dennis Zaki.
Iditarod Champion Lance Mackey talks dogs from Dennis Zaki on Vimeo.
© AlaskaReport.com All Rights Reserved.
---