November 3, 2008
Sarah Palin refuses to release medical records
Questions about the birth of Trig Palin have surrounded Palin for months
After telling NBC News' Brian Williams that she would release her medical records, like all candidates for president and vice-president do before every election, Sarah Palin is refusing to and there is no indication she is planning to do so before tomorrow's election.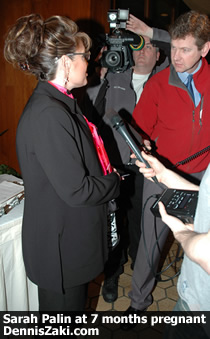 Palin's spokeswoman Tracey Schmitt told several reporters two weeks ago that they were preparing "a release of information regarding her medical history" which "will happen sooner rather than later."
From CNN: Reporters were told that details on Palin's medical background would be released early last week. Last Thursday, after that timeframe had passed, a campaign aide backed off the previous pledge, saying the campaign wasn't sure when the information would be released.
John McCain, Barack Obama and Joseph Biden have all provided details about their medical history.
© AlaskaReport.com All Rights Reserved.
---