March 2, 2008
Lance Mackey the Iditarod race favorite
By Dennis Zaki
On a bitterly cold and windy morning in downtown Anchorage, Lance Mackey is the hottest racer in Alaska.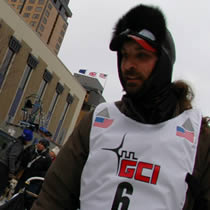 "We could use a little more snow, but I'm rockin' and ready to go."
Two weeks ago Mackey won his fourth consecutive 1,000-mile Yukon Quest International Sled Dog Race, Lance also won last year's Iditarod.
Mackey made history last year as the first musher to win Yukon Quest and the Iditarod back-to-back.
An Iditarod record field of 96 mushers, including 33 rookies will start Sunday's race.
Mackey and his team of dogs are by far favorite.
"Thanks for coming out." Mackey tells throngs of well-wishers and tourists mobbed around is truck.
When asked by tourist Dana Schlereth from Billings, Montana how is dogs are feeling, Mackey says "Just look at them, they are ready to roll."
The 35th running of the Iditarod Trail Sled Dog Race begins Sunday in Willow, Alaska.
Lance Mackey at the ceremonial start of the Iditarod
Lance Mackey speaking to his fans and the media just before the start of the Iditarod in Willow, Alaska March 1st, 2008.
---