March 7, 2008
Don Young's briber Troha escapes prison time
Dennis Troha, a Wisconsin trucking executive that paid Alaska Congressman Don Young over $20,000 in illegal campaign contributions, was sentenced to no prison time Friday, due to his pledge to testify against Young and other corrupt politicians that he bribed.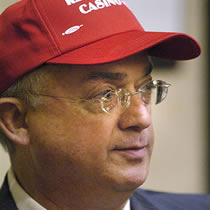 A federal judge in Milwaukee sentenced Troha to six months probation and gave Troha no monetary fine.
Troha has admitted funneling illegal donations to politicians who could help him reach build a casino in Kenosha and relax federal trucking rules.
From the Milwaukee Journal Sentinel -
U.S. Attorney Steven Biskupic recommended probation, he said, because Troha has helped his office and the FBI in their ongoing investigation of campaign finance violations. He credited Troha with bringing in three cases: two subordinates and Kenosha County Executive Allan Kehl.

"He provided information on three significant cases, and there will probably be more," said Biskupic, who estimated the FBI will be investigating the information Troha has provided for the next year. "They (Troha and his subordinates) have been a deep well of information regarding illegal campaign activity."
Troha faced up to two years in prison.
Biskupic asked for a lighter sentence in a recent court filing, because Troha had provided "substantial assistance" to prosecutors during their investigation of the conspiracy.
Troha pleaded guilty in July to two misdemeanor campaign finance charges.
© AlaskaReport.com All Rights Reserved.
Related Don Young Stories:
Corrupt Bastard Club coverage and links
Don Young opens criminal defense fund
Florida returns Young's $10 million phony Coconut Road earmark
Don Young under criminal investigation - again
Don Young's Former Aide Pleads Guilty To Corruption
Don Young's infamous Florida land scam
Alaska Congressman Young probed by FBI in pay-off scheme
Don Young helps Florida developer after fund raiser
Don Young caught lying about debate over emissions bill
Ted Stevens and Don Young Fail to Provide 'Honest Services'
---
Visitors to AlaskaReport