March 11, 2009
Corrupt Republican Beverly Masek to plead guilty to bribery
Masek will be the 11th conviction for the FBI in their ongoing investigation of Alaska's corrupt politicians (All Republicans so far)
Yet another dirty Alaska Republican will plead guilty Thursday to bribery.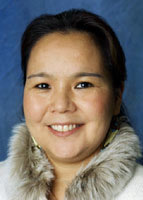 Beverly Masek, a former state Representative from Willow, has agreed to plead guilty to conspiring to receive a bribe.
Masek, accepted at least $4,000 from corrupt former VECO CEO Bill Allen in 2003, according to documents filed Wednesday in U.S. District Court in Anchorage.
Masek killed an oil tax bill she had introduced after Allen told her it was "harmful" to his oil industry clients.
Under a plea bargain negotiated with prosecutors, Masek would only face a prison sentence of 18 to 24 months and a fine of $4,000 to $40,000. In Alaska the maximum penalty for conspiracy to commit bribery is five years in jail and a $250,000 fine.
© AlaskaReport.com All Rights Reserved.
---