April 1, 2009
Ted Stevens conviction to be tossed
Corrupt Senator convicted of 7 felonies
Despite overwhelming evidence of his guilt, former senator Ted Stevens will have his conviction of 7 felonies tossed by new US Attorney General Eric Holder Wednesday due to allegations of prosecutorial misconduct.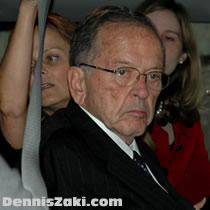 From NPR
The Justice Department will drop all charges against former Sen. Ted Stevens of Alaska, NPR has learned.

A jury convicted Stevens last fall of seven counts of lying on his Senate disclosure form in order to conceal $250,000 in gifts from an oil industry executive and other friends. Stevens was the longest-serving Republican in the Senate, however, he lost his bid for an eighth full term in office just days after he was convicted. Since then, charges of prosecutorial misconduct have delayed his sentencing and prompted defense motions for a new trial.

According to Justice Department officials, U.S. Attorney General Eric Holder has decided to drop the case against Stevens rather than continue to defend the conviction in the face of persistent problems stemming from the actions of prosecutors.

The judge in the Stevens case has repeatedly delayed sentencing and criticized trial prosecutors for what he's called prosecutorial misconduct. At one point, prosecutors were held in contempt. Things got so bad that the Justice Department finally replaced the trial team, including top-ranking officials in the office of public integrity. That's the department's section charged with prosecuting public corruption cases.
© AlaskaReport.com All Rights Reserved.
---