April 3, 2009
Poe Opposes WAR with Rural Alaska
From a Bob Poe press release:
Today Bob Poe, Democratic Candidate for Governor, joined with the Alaska Federation of Natives and the Association of Village Council Presidents to oppose the confirmation of Wayne Anthony Ross as Alaska Attorney General.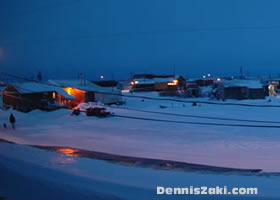 "It is unfortunate that Governor Sarah Palin, rather than selecting an Attorney General designee who would help pull Alaska together, has selected an individual as divisive within Alaska as Mr. Ross. I join with the Alaska Federation of Natives and the Association of Village Council Presidents in their opposition to his confirmation by the Legislature," said Poe. "Mr. Ross's long standing opposition to issues like a rural preference for subsistence, held as a critical issue to rural Alaskans, is a clear example as to why this appointment will not be helpful in bridging the urban/rural divide."
"The Attorney General is supposed to be Alaska 's attorney to represent all Alaskans within the Executive Branch. We have already seen Governor Palin's first Attorney General lean too far to support the Governor's personal position in the matter concerning Commissioner Monegan, why now does she support a new appointment who is likely to broaden the gap between urban and rural Alaska. Isn't it time for the Governor to choose an Attorney General who will represent the needs of all Alaskans?" added Poe.
"In these challenging economic times we should be focused on working together as Alaskans, rural and urban, for our common future," said Poe. "Isn't it time Governor Palin show the leadership to pull Alaskans together, not drive us further apart? Mr. Ross' appointment, unfortunately, will be one that further divides us."
Bob Poe announced on January 8, 2009 he was seeking the Democratic nomination for Governor. He has had a 28-year career in Alaska's public and private sectors serving four Alaska Governors during his career.
He has been critically involved in a variety of economic development efforts including leading Alaska's marketing and negotiating teams to attract the FedEx and UPS cargo hubs to Anchorage .
© AlaskaReport.com All Rights Reserved.
---