July 21, 2009
Nailed: Palin Broke Ethics Rules Again
Palin knew about report a week ago yet still allowed donations
An independent investigator's report shows that Alaska governor (for now) Sarah Palin probably violated ethics laws by knowingly, and unethically, trading on her position in seeking money for legal fees.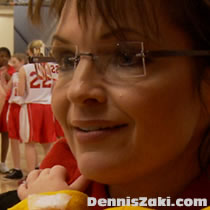 "There is little doubt that the Alaska Fund Trust will provide 'personal gain' to Governor Palin because the trust will provide a benefit to the governor's financial interest," Anchorage lawyer Thomas M. Daniel wrote in his nine-page report, dated July 14.
See the Daniel Report (PDF)
From the Washington Post:
Thomas Daniel, who was hired by the state personnel board to investigate a complaint by Alaskan Kim Chatman, declined to discuss the contents of his report but outlined the process for handling it. After reviewing the report, Palin could decide to settle or the issue could go before an administrative law judge for a hearing, he said.

Among Daniel's recommendations in the report are that Palin "refuse to accept payment for her legal fees and costs" from the fund and ask the state to reimburse her for legal fees incurred for complaints that are dismissed.

Daniel's report also highlights the relationship between the fund's trustee, Kristan Cole, and Palin. The governor appointed Cole, a longtime friend, to positions on the Royalty Oil and Gas Commission and the Board of Agriculture and Conservation.

"The relationship between Ms. Cole and the governor could cause a 'reasonable person' to conclude that the payment of the governor's legal fees is intended to influence the governor's performance of official duties, action or judgment," Daniel wrote.
© AlaskaReport.com All Rights Reserved.
---