July 26, 2009
Palin leaves office in disgrace
Hounded out of office by lack of honesty, illegal bank account
Sarah Palin quit Alaska Sunday in yet another confusing move by the Republican once beloved by many Alaskan residents.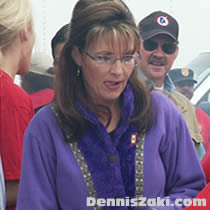 During her resignation speech on Sunday in Fairbanks, Alaska, Palin recalled promising ethics reform as a gubernatorial candidate, saying, "We promised it, and now it is the law."
She failed to mention her obstruction of those laws that led to over 20 ethics complaints, mostly by Republicans, from her illegal activities.
"Ironically, it needs additional reform to stop blatant abuse from partisan operatives," she added. "I hope the lawmakers will continue that reform."
© AlaskaReport.com All Rights Reserved.
---