April 2, 2008
Ted Stevens #2 on Pig Book list
Alaska Senator Ted Stevens is the #2 porker in the nation this year, according to the Pig Book just released by Citizens Against Government Waste (CAGW).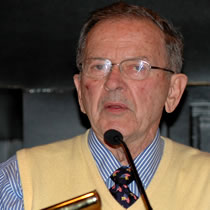 Stevens is under multiple criminal investigations for bribery, extortion, and corruption charges - many relating to his earmarks and the kickbacks associated with them.
A Lobster Institute. The Rocky Flats, Colorado, Cold War Museum. The First Tee, a program to build young people's character through golf. Members of Congress requested funds for all these pet projects and thousands of others last year, according to the latest copy of the annual "Pig Book" released by the (CAGW).
"Congress stuffed 11,610 projects" worth $17.2 billion into a dozen spending bills, the group said in the report released Wednesday.
The "Pig Book" names dozens of what CAGW considers the most egregious porkers, the lawmakers who funnel money to projects on their home turf. Both parties came in for criticism, with the Democrats who control both houses of Congress topping the Republicans. The Democrats were behind 5,199 projects worth $5.5 billion, while the Republicans earmarked 3,408 projects worth $4.4 billion, CAGW said. And in a sign bipartisanship is not dead, the two parties jointly backed 2,518 projects worth $3.8 billion.
From a Citizens Against Government Waste press release:
Citizens Against Government Waste (CAGW) today released the 2008 Congressional Pig Book, the latest installment in an 18-year exposť of pork-barrel spending.
"When Congress adopted earmark reforms last year, there was hope that the number and cost of earmarks would be cut in half. By any measure, that has not occurred," said CAGW President Tom Schatz.
In fiscal year 2008, Congress stuffed 11,610 projects (the second highest total ever) worth $17.2 billion into the 12 appropriations bills. That is a 337 percent increase over the 2,658 projects in fiscal year 2007, and a 30 percent increase over the $13.2 billion total in fiscal year 2007. Alaska led the nation with $556 in pork per capita ($380 million total), followed by Hawaii with $221 ($283 million) and North Dakota with $208 ($133 million). CAGW has identified $271 billion in total pork since 1991.
For the first time, the names of members of Congress were added to the projects. The top three porkers were members of the Senate Appropriations Committee, beginning with Ranking Member Thad Cochran (R-Miss.) with $892 million; Senator Ted Stevens (R-Alaska) with $469 million; and Senator Richard Shelby (R-Ala.) with $465 million.
The Pig Book Summary profiles the most egregious examples, breaks down pork per capita by state, and presents the annual Oinker Awards. All 11,610 projects are listed in a searchable database on CAGW's website www.cagw.org. Examples of pork in the 2008 Pig Book include:
$3 million for The First Tee;
$1,950,000 for the Charles B. Rangel Center for Public Service;
$460,752 for hops research;
$211,509 for olive fruit fly research in Paris, France;
$196,000 for the renovation and transformation of the historic Post Office in Las Vegas;
$188,000 for the Lobster Institute in Maine;
$148,950 for the Montana Sheep Institute.
"Americans do not send their hard-earned tax dollars to Washington so that Sen. Daniel Inouye can bring home $173 million in defense pork and receive the Pacific Fleeced Award or get sapped by $4.8 million going to wood utilization research, on which the government has spent $91 million since 1985," concluded Schatz.
Citizens Against Government Waste is a nonpartisan, nonprofit organization dedicated to eliminating waste, fraud, abuse, and mismanagement in government.
© AlaskaReport.com All Rights Reserved.
---