April 17, 2008
Senate goes after Young for shady earmark switch
By Dennis Zaki
The US Senate voted 63 to 29 Thursday to seek a federal investigation into a 2005 earmark on a highway funding bill that was altered by Alaska Congressman Don Young after Congress approved the measure but before President Bush signed it.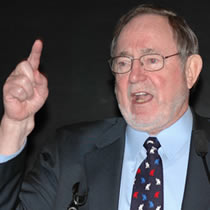 The earmark in question was a personally engineered $10 million insert by Young in exchange for a $41,000 campaign contribution.
The FBI is already investigating the contribution as a bribe.
Young is also under multiple criminal investigations for bribery, extortion, and corruption relating to other bribes in Arkansas, Michigan, and Alaska.
The earmark was originally designated for improvements to Interstate 75 in Lee and Collier Counties in Florida and was changed in the middle of the night to put the money into building an interchange in Lee County, a violation of congressional rules.
A staff member of Young's claimed yesterday "There was an error in the bill and so it was corrected."
House Speaker Nancy Pelosi isn't buying it "My understanding is that Congressman Young has said that his staff did make that change after this bill had passed the House and the Senate," Pelosi said. "And it wasn't about technicalities; it was about something quite different. And so I think that is something the ethics committee should look at."
Pelosi suggested that the House ethics committee should also look into the matter.
"And I think we should take that course of action, especially now since Congressman Young has said that his staff person did make that change after the fact. That's just not right," she said.
Democrats have long suspected that Young was responsible for the change, noting that he received $40,000 in campaign contributions as the bill was moving through Congress, from local business leaders who stood to gain from a new highway interchange at that location.
"I don't know," Senate Majority Leader Harry Reid said when asked whether he thought the contributions were a factor in Young's decision to make the change, "but that's why the Justice Department should look into it."
House Minority Whip Roy Blunt isn't keen on Young's re-writing of a bill after it was signed by Congress. "We don't want members of the staff deciding what legislation says and doesn't say after the Congress votes on it," he said.
House Minority Leader John Boehner said he supports an investigation also "Mr. Young's office has welcomed any inquiry or examination of the earmark, and I would support that as well," he said. "I think it's in everyone's interest that we know what happened and did not happen here."
A spokeswoman for Young said Tuesday that the congressman "has always supported and welcomed an open earmark process. If Congress or the attorney general takes up this matter, then he has no objection." Sen. Barbara Boxer had harsh words for Young, "I'm so angry about this, I'm so upset about this. I'm sick about this," Boxer said. "It's very possible people ought to go to jail here ... if there was a crime, then the person ought to go to jail or the people ought to go to jail.
"When there's a knock on the door from the Justice Department, you know it's serious and we'll get to the bottom of this," Boxer said.
AUDIO: Young speaks about the infamous earmark. From KMXT's coverage of the ComFish debate in Kodiak. (32 seconds)

"Those people in the community asked for it"


© AlaskaReport. All Rights Reserved.
---
Related Don Young Stories:
Corrupt Bastard Club coverage and links
Boxer wants Don Young and/or accomplices in jail
Young's criminal lawyers' tab reaches $1.1 million
Don Young opens criminal defense fund
Florida returns Young's $10 million phony Coconut Road earmark
Don Young under criminal investigation - again
Don Young's Former Aide Pleads Guilty To Corruption
Don Young's infamous Florida land scam
Alaska Congressman Young probed by FBI in pay-off scheme
Don Young helps Florida developer after fund raiser
Don Young caught lying about debate over emissions bill
Ted Stevens and Don Young Fail to Provide 'Honest Services'
---