April 3, 2008
Mechele Linehan gets 99 years in murder-for-hire scheme
By Dennis Zaki
Former Alaska stripper Mechele Linehan was sentenced to 99 years in prison Wednesday for her part in a murder-for-hire plot she had orchestrated to get her fiance's life insurance money.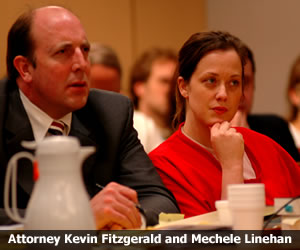 Linehan sat expressionless as Superior Court Judge Philip Volland gave her the maximum sentence allowed.
Judge Volland called her a cold-hearted killer who committed a "heinous crime."
Photo Gallery of sentencing (16 pictures) >>>
"In my mind I can find no principled distinction between the puppet who pulls the trigger and the puppeteer who pulls the strings," Volland said of Linehan's role in the murder. "And in my judgment, Ms. Linehan was the puppeteer who pulled the strings."
In a seven minute allocution, Linehan said "I'd like to introduce myself to you," she said. "I am 35. I am a wife to a wonderful man who I love dearly. I'm a mother to a bright-eyed little girl who is and always will be the brightest star in my life."
"More than a decade ago I chose to work at the Bush Company," Linehan said. "While working there, I made poor choices. I never asked for anyone to be hurt."
"I have not lived a life of greed, manipulation or that of a fictional character of a Hollywood movie."
"I beg you from the bottom of my heart to allow me the chance to go back to my family as soon as I possibly can."
Prosecutor Pat Gullufsen said Linehan had Leppink killed for a $1 million life insurance policy and was inspired by a 1994 movie, "The Last Seduction," in which a woman coaxes her lover into killing her husband for money.
Leppink was later found shot to death on a hiking trail in Hope, Alaska.
Linehan's co-conspirator and boyfriend, John Carlin III, was sentenced in January to 99 years in prison for shooting Leppink.
Linehan was convicted in October of 2007.
© AlaskaReport.com All Rights Reserved.
---
Mechele Linehan Allocution