July 2, 2008
Dems say oil speculation mess started on Ted Stevens' watch
Oil Speculation Forces Alaska Families To Pay More At The Pump
As headlines across the country decry oil speculation as the cause for the pain at the pump, Senator Ted Stevens is playing election year politics as he claims to be rescuing consumers by suddenly supporting regulation for energy futures market. However, Stevens has repeatedly done just the opposite. In fact, in 2000, Stevens was Chairman of the Senate Appropriations Committee when he allowed a provision to deregulate energy futures to be added to his appropriations bill without undergoing the typical committee process. With the current weakening of the housing market, many investors pulled money out of real estate and put it instead into commodities, like oil. This has led to a flurry of unregulated market speculation in the oil futures markets, thus driving gas prices to record highs.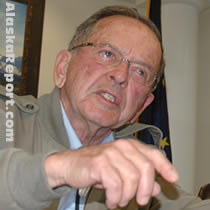 "Now that Stevens is facing a real race to keep his Senate seat, it shouldn't be surprising that he is flip-flopping," said Bethany Lesser, spokeswoman for the Alaska Democratic Party. "It's nice that Stevens is doing the right thing now, but Alaskans shouldn't have to wait every six years to have their senator on their side. When it comes to real issues like energy prices, Alaska families deserve better than election-year politics."
In December 2000, as Stevens oversaw the Consolidated Appropriations Act, a provision written by Senator Phil Gramm (R-TX), which recently has received quite a bit of negative attention in the presidential campaign, was added at the last minute to the final 11,000 page bill to deregulate the energy markets. Commonly known as the "Enron Loophole," the Commodity Futures Modernization Act exempted electronic energy trades from federal regulation. The provision bypassed the usual committee hearing and vote process and was streamlined into the legislation by Stevens.
Stevens has been a long time advocate for deregulation of energy futures. In 2002, Stevens voted against an amendment that would have provided regulatory oversight of energy trading markets. [Roll Call 61, S.AMDT 2989, 4/10/2002] In 2003, Stevens voted against an amendment to protect electric ratepayers from manipulation and contrivance of the energy market and an amendment that would have ensured that consumers and competitive markets are protected from false and misleading information. [Roll Call 439, S.AMDT 2087, 11/5/2003, Roll Call 436, S.AMDT 2083, 11/5/2003]
Just this month, Stevens continued his streak of voting against consumers by helping to block the Consumer-First Energy Act. The legislation needed 60 votes in the Senate to move forward but only received 51. The Consumer-First Energy Act would have taken several immediate steps to lower out-of-control gas prices, which now average more than $4 per gallon nationwide. [Roll Call Vote #146, 6/10/2008]
From an Alaska Democratic Party press release
© AlaskaReport.com All Rights Reserved.
---