July 10, 2008
Republican John Cowdery indicted for bribery
"Gotta have some votes here"
Alaska Republican Senator John Cowdery has been indicted on two counts of bribery and conspiracy.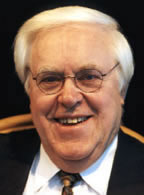 According to a 16-page indictment released Thursday, Cowdery and "others" conspired to give a state senator $25,000 disguised as campaign contributions. Cowdery's lawyer has identified Donny Olson, D-Nome, as the senator who was offered the bribe.
Read the indictment.
Convicted former VECO executive Rick Smith testified during a previous trial that he had bribed Cowdery.
Smith testified during the trial of former House Speaker Pete Kott in 2007, that he had bribed Cowdery, Pete Kott, Vic Kohring, former Juneau Rep. Bruce Weyhrauch, and former Senate President Ben Stevens.
Cowdery will be arraigned at the federal courthouse in Anchorage Friday at 1:30 p.m.
© AlaskaReport.com All Rights Reserved.
---