July 10, 2008
Governor Palin says Cowdery should resign
From a State of Alaska press release:
Alaska governor Sarah Palin today released the following statement regarding the indictment of state Senator John Cowdery: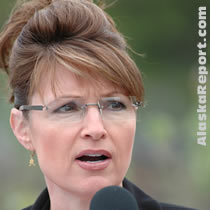 "It was disturbing to learn that another public official has been charged with violating the public trust. I urge Senator Cowdery to step down, for the good of the state."
"Today's news is a good reminder that we must continue to be vigilant in defending Alaska's sovereignty against those who would undermine it in an attempt to sell out Alaskans. As we move forward, let me remind everyone that this administration is committed to putting Alaskans and their interests first, as we develop our resources in a responsible and ethical manner."
"We are on the right path. I am confident that path will be made more clear and obstacle-free as justice prevails in the ongoing FBI investigation. Like many Alaskans, I look forward to closure on this disturbing chapter in our state's history."
© AlaskaReport.com All Rights Reserved.
---