July 15, 2008
Begich Campaign Breaks $1 Million in 2nd Quarter Fundraising
Alaskans from across the state support campaign
Reflecting a broad base of support from across Alaska, U.S. Senate candidate Mark Begich raised more than $1 million in the second quarter of fundraising that ended on June 30. With all of the dollars counted, the Begich campaign brought in $1,034,660.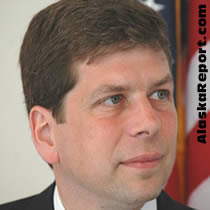 "I am overwhelmed and humbled by the support our campaign is receiving," Begich said. "I think it shows Alaska's families are excited to have a candidate with an open and transparent style, and someone who can bring new energy and ideas to the U.S. Senate."
In the second quarter that ran from April 1 - June 30, more than 4,000 people donated to the campaign. From Akiachak to Auke Bay and Ketchikan to Kasilof, support for the Begich candidacy comes from dozens of communities around Alaska .
Begich said he is particularly pleased that 3017 of the 4099 donors gave $100 or less.
"What this shows is real grassroots support for what we're doing. We're connecting with Alaskans and showing them I will work hard on the issues they face, from energy costs, to education, health care and more."
Although current law only requires donations of $200 and above be reported, in the vein of full disclosure, Begich is listing every donation to his campaign. The practice is in line with his belief that elected officials should live by the highest standard of honesty, integrity and transparency.
To that end, Begich has posted his Federal Election Commission financial disclosure report, along with his Alaska Public Offices Commission disclosure forms filed back to 1988, on his website at www.begich.com.
Overall, since announcing his senate exploratory effort at the end of February, Begich has raised $1.3 million.
From a Mark Begich press release
© AlaskaReport.com All Rights Reserved.
---