July 23, 2008
John Cowdery resigns as chairman of the Legislative Council
Cowdery is now cooperating with federal officials
By Dennis Zaki - Alaska Republican senator John Cowdery, under indictment for federal bribery charges, has resigned as chairman of the Legislative Council for "health reasons".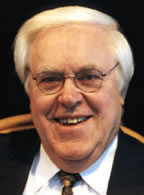 So far, Cowdery has refused to resign the Senate.
According to a lawyer with knowledge of the investigation, Cowdery is now cooperating with federal investigators in a wide-ranging investigation of corruption among Alaskan lawmakers. Cowdery is reportedly helping prosecutors on another case in return for a lighter sentence.
Cowdery is awaiting his first court appearence after being indicted July 10 on two counts of bribery and corruption.
Federal prosecutors say that Cowdery conspired with VECO executives to bribe another state senator (Ben Stevens) for votes to support oil and gas legislation.
Cowdery notified Senate President Lyda Green of his decision in a letter on Monday.
Read the letter to Lyda Green.
AUDIO: Convicted former VECO VP Rick Smith admits to bribing State Senators John Cowdery and Ben Stevens (Sept. 14, 2007):
"...that would have been Ben Stevens and John Cowdery"
© AlaskaReport.com All Rights Reserved.
Related John Cowdery Stories:
---