September 18, 2008
Begich Outlines Plan to Strengthen Rural Alaska
Cutting energy costs, improved health care, expanded economic opportunities among solutions
U.S. Senate candidate Mark Begich today detailed his plan for strengthening Alaska Native and rural communities. The plan includes solutions to bring down energy prices, reduce transportation costs, enhance economic opportunities, and increase funding for schools and health clinics.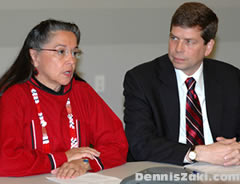 As a U.S. Senator, Begich pledges to fight for rural Alaska and build new relationships to ensure Alaska Native programs and services are protected, adding he will be a partner Alaska Natives can work with for years to come. Begich said as he has traveled to places such as Kotzebue, Nome , Bethel , Akiachak, Kasigluk and more, there has been a common theme.
"What I hear is that the people of rural Alaska are looking for change. Looking for new leadership to tackle the enormous challenges facing villages," Begich said. " Alaska is at an historic moment of change, the kind that comes only once in a generation."
Joined by Alaska Native leader Georgianna Lincoln at a news conference at the Alaska Native Medical Center , Begich said he is humbled and proud by the support he's receiving in rural Alaska .
"As I've traveled through rural Alaska , I have visited with elders, teachers, hospital staff, and community leaders. My rural plan is based on conversations and ideas I have heard loudly and clearly from Alaska 's Native peoples."
Begich's Rural Plan has eight key components including energy, health, economic opportunities, public safety, education, resource development, and Native self-determination. Among the ideas:
• Energy – help communities lower energy costs with an energy-efficiency revolving loan fund for community buildings; develop renewable energy and diesel hybrid systems; and bring Alaska natural gasline benefits to rural Alaska through revenue sharing from the project.
• Health – Mark will fight to increase Indian health Service funding for the Alaska Native health care delivery system and close the current funding gap in existing contracts with Alaska Native organizations; build on the success of the Denali Commission by building new partnerships nationally to ensure continued funding for the Commission; Mark will work to double funding for federal EPA water and wastewater programs that have assisted Alaska tribes in addressing local environmental concerns.
• Economic opportunities – Mark supports wise use of the national Universal Service Fund to ensure affordable high-speed Internet services that are critical to economic success in rural areas; support regional profit and non-profit corporations in developing leadership through mentoring, education, and training; provide access to markets outside of villages by using the Internet to spur economic development in rural communities; fight to protect the SBA 8(a) Program for Alaska Native Corporations; and continue to work for state revenue sharing to continue to all Alaska communities.
• Education – Mark will work to repeal No Child Left Behind and return control of schools to local schools and communities; supporting new incentives and focused recruitment to bring Alaska graduates back to rural communities as teachers; Mark supports the federal government funding voluntary, universal pre-K education; investing in apprenticeship and career education programs in Alaska's hub communities; and ensuring that innovative work by the Alaska Native Education Program and the Alaska Native Science Education Program are fully funded.
• Protecting Subsistence Rights – As a U.S. Senator, Mark will hold in-depth hearings on whether federal management of subsistence is working in rural Alaska communities. He will fight to ensure Congress never weakens ANILCA's protections for subsistence hunting and fishing.
Begich pointed out that as Mayor of Anchorage, he hired the first ever rural affairs coordinator for the city, and has a rural affairs director on his campaign. He has met regularly with local Native leaders and supports tribal courts, elders leading villages, and subsistence.
"As senator, I will work closely with Native communities to ensure our children and grandchildren have healthy communities to live in and viable job opportunities," Begich said.
To read the entire Rural Plan, go to www.begich.com.
From a Mark Begich press release
© AlaskaReport.com All Rights Reserved.
---