September 30, 2008
Bill Allen testifies against Stevens
Convicted former VECO CEO Bill Allen took the witness stand Tuesday against Alaska senator Ted Stevens and said he gave Stevens free gifts.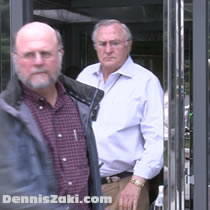 Allen, who bankrolled most of the bribes that Stevens is on trial for allegedly trying to hide, took the stand Tuesday, acknowledging his close friendship with the lawmaker even while serving as the government's star witness against him.
Bill Allen also testified that VECO purchased a switch to power a generator at the Girdwood home, and that he did not know what it had cost. Asked if Stevens ever paid the company back, Allen said, "No, not that I know of."
In testimony Tuesday, former Stevens spokeswoman Courtney Boone acknowledged that she was asked about the issue by reporters but said, "I would have only given a reporter the essential information. VECO wouldn't have been essential, and VECO could have stirred up more questions. This would have been a story I wanted to put a stop to."
Prosecutors estimated that they will need more than five hours to question Allen, meaning he will return Wednesday for more direct questioning. Prosecutor Nicholas Marsh told U.S. District Court Judge Emmet Sullivan that the state may rest its case Thursday.
The defense team has told the jury that Stevens "promptly" paid all the bills he knew about and that it was Allen who concealed additional costs. During witness cross-examination, Stevens' lawyers have tried to undercut the reliability of documents that the prosecution hopes will show both the cost and Stevens' lack of repayment.
Court recessed for the day after about an hour and a half of Allen's testimony. He will return to the stand Wednesday. Prosecutor Marsh told the judge earlier Tuesday that the state may rest its case on Thursday.
© AlaskaReport.com All Rights Reserved.
---