October 30, 2008
Convicted of 7 felonies, Stevens now claims he wasn't convicted
"I have not been convicted of anything." Ted Stevens
Senator Ted Stevens, a former U.S. Attorney, must not remember the definition of conviction from law school. Today, at the first-and-only Senate debate, Stevens told Alaskans that, "I've not been convicted yet." However, Stevens seems to be missing the point of the month long trial he just went through. Stevens can say he hasn't been sentenced yet or he can say he plans to appeal his conviction. But clearly a jury of 12 people did in fact convict Stevens on seven felony counts. Thus, Stevens became a convicted felon on Monday.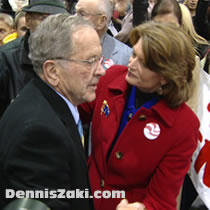 "It is astonishing that Senator Stevens is lying to Alaska voters saying he hasn't been convicted," said Bethany Lesser, spokeswoman for the Alaska Democratic Party. "Maybe he thinks if he says it enough Alaskans will believe him. Stevens acts like he's above the law. Alaskans expect Stevens to answer tough questions and take responsibility for his actions. Stevens was too close to special interests and got himself into this situation. He needs to deal with the consequences for his bad judgment."
The Alaska and national media sure think Stevens has been convicted:
Anchorage Daily News: "A federal jury on Monday convicted U.S. Sen. Ted Stevens on all seven counts of lying on his financial disclosures, a crippling blow not just to his election chances next week but to his legacy as Alaska 's longest serving and most accomplished living politician." [Stevens guilty: 'It's not over yet' he says, 10/27/08]
Fairbanks News Miner: "A jury convicted Stevens, 84, of seven felony counts Monday for his failure to report gifts and home renovations made by former VECO oilfield services company head Bill Allen. Stevens maintained that he believed his reporting was accurate and complete." [Stevens tells Fairbanksans he needs their trust and support, 10/30/08]
Associated Press: "A senator since 1968, Stevens faces re-election next week as a convicted felon." [McCain Says Alaska Sen. Ted Stevens Should Quit, 10/28/08]
Washington Post: "Sen. Ted Stevens, one of Congress's most powerful Republicans, was convicted yesterday of lying on financial disclosure forms to conceal his receipt of gifts and expensive renovation to his house just eight days before he faces voters in a tight reelection contest." [Stevens Found Guilty on 7 Counts, 10/28/08]
New York Times: "The jury of District of Columbia residents convicted Mr. Stevens, 84, on all seven felony counts he faced in connection with charges that he knowingly failed to list on Senate disclosure forms the receipt of some $250,000 in gifts and services used to renovate his home in Girdwood, Alaska." [Alaska Senator Is Guilty Over His Failures To Disclose Gifts, 10/27/08]
"Senator Stevens' trial ended with seven felony convictions, and Alaskans deserve better. Alaskans deserve a Senator they can be proud of, a Senator who puts Alaska 's needs above those of special interests," Lesser added.
From a Alaska Democratic Party press release
© AlaskaReport.com All Rights Reserved.
---