March 12, 2008
Mackey pulls out great win in Nome
With great strategy and a powerful dog team, Lance Mackey pulled out his second consecutive Iditarod win early Wednesday in Nome, Alaska.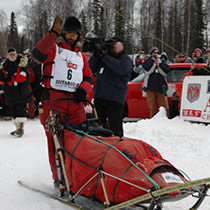 On the first day of the Iditarod Mackey said "I'll have to get a real job if I don't win this."
NOME, Alaska, March 12 -- Lance Mackey overcame the odds to steal rival Jeff King's fifth victory and win his second consecutive Iditarod dog sled race Wednesday in Alaska.
Mackey took his dogs 1,100 miles in the bone-numbing 40-degree-below-zero temperatures across the Yukon, taking the race for the second time running.
King and his 16-dog sled team swapped leads with Mackey, who lost one of his dogs early on, with another hobbling along on an infected foot. Mackey at one point was 90 minutes behind King. But he cut that to 57 minutes and then to 44 at various checkpoints.
Mackey took some risky moves, pushing his dogs to the brink and skipping much-needed rest himself but he blew past King to trot to the finish line on Nome's Front Street to take the Iditarod at 2:46 a.m. Wednesday. His official time was nine days, 11 hours, 46 minutes and 48 seconds. King was second, reaching the finish at 4:05 a.m.
For over a week of mushing in sub-zero temperatures, Mackey takes home $69,000 and a new truck.
Mackey is the first back-to-back winner since Doug Swingley captured three straight from 1999-2001. The Mackey family has won four Iditarod races. Lance Mackey's father, Dick, won it in 1978 and his older brother, Rick, captured the 1983 race.
Lance Mackey speaking to his fans and media just before the start of the Iditarod in Willow, Alaska March 2nd, 2008.
---