Toilet Stalker not resigning, Republicans enraged
October 5, 2007
Washington, DC - Disgraced Idaho Republican Senator Larry "Toilet Stalker" Craig vowed Thursday to serve out the last 15 months of his term, despite a court ruling that left intact his guilty plea in a sex sting operation.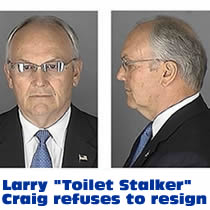 Craig, arrested in an airport bathroom while cruising for gay sex, said that he wouldn't resign from the Senate while awaiting a judge's ruling on his effort to get his guilty plea withdrawn.
From the AP:
"Senator Craig gave us his word" that he would resign by Sept. 30 if he could not overturn the guilty plea, said Sen. John Ensign, R-Nev., who chairs the GOP campaign committee overseeing next year's Senate elections. "I wish he would stick to his word."

"It's embarrassing for the Senate, it's embarrassing for his party," Ensign said. Asked if Craig's staying would be a distraction for the party, Ensign said: "It may be a personal distraction for me."

Sen. Norm Coleman, R-Minn., who faces a tough re-election campaign next year in a state where opposition to the Iraq war is strong, spoke with reporters Thursday before Craig announced his plans to stay and fight.

"I would hope that he would live up to what he said he would do and not put the Senate through the wringer on this, respect the institution," Coleman said. "Clearly, his ability to serve his people was severely compromised."
Craig claims he is not gay
Craig, who claims he is not gay, argued that he entered the plea without legal advice, fearing that the allegations would be made public.

Once his plea did become public, the Idaho Republican announced he would resign at the end of September

Craig, 62, is married (for now) and in his third term in the Senate. He is up for re-election next year.
Specter comment
"I don't think it reflects on the party at all," Arlen Specter said according to the AP. "Larry Craig is an individual. He doesn't represent the party or any other individual senator or any Republican. The conduct which is described here at worst is disorderly conduct. I don't know what his sexual preference is. It's not relevant to the issue in any respect."
© AlaskaReport News
---
>


---