August 1, 2009
Todd and Sarah Palin to divorce
Affairs on both sides
See also - Palin lawyer threatens to serve papers to blogger at kindergarten, then chickens out
Updated 11-19-2009 - Levi Johnston's manager, Tank Jones, is the original source of our story.
AlaskaReport has learned that Todd Palin and former Alaska governor Sarah Palin are to divorce. Multiple sources in Wasilla and Anchorage (including a former Palin staffer) have confirmed the split. The sources preferred to remain anonymous for fear of repercussions from the Palins and their co-workers.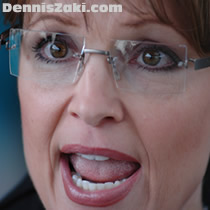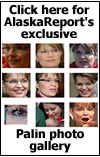 A National Enquirer story exposing previous affairs on both sides led to a deterioration of their marriage and the stress from that led to Palin's resignation as governor of Alaska last week.
The Palins were noticeably not speaking to each other for most of last Sunday's resignation speech in Fairbanks. Sarah ditched Todd (MSNBC) right after the speech and left without him. Sarah removed her wedding ring a couple of weeks ago.
According to the ImmoralMinority blog Sarah has recently purchased land in Montana and is considering moving the family there. Sarah Palin is originally from Idaho.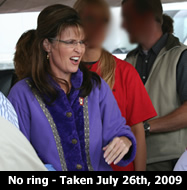 Todd Palin told Fox News last week that he was heading back to his job in the oil fields of Alaska, yet Sarah recently signed a book deal reportedly worth $11 million.
Editor's note: AlaskaReport was the first website to report that Sarah Palin was running for governor of Alaska and the first website to report that Sarah was picked as John McCain's VP candidate.
Related stories:
Sarah Palin's silence on affair deafening

Palin lawyer threatens to serve papers at kindergarten
---
Sarah Palin on "hurt feelings" - November 5th, 2008
Former Alaska governor Sarah Palin says politicians need to have thick skin "just as I've got" Which of course is hilarious since she quit as Alaska's governor complaining about her hurt feelings from Alaska's bloggers reporting on her 21 ethics violations.
Sarah Palin on "hurt feelings" from Dennis Zaki on Vimeo.
© AlaskaReport.com All Rights Reserved.
---