Dick Durbin says Iraq report bogus, falsified
September 7, 2007
Washington, DC - Dick Durbin, the second-ranking Democrat in the Senate, is accusing the Bush administration of manipulating negative information in its highly anticipated Iraq (Petraeus) report that will be released next week.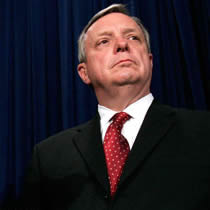 General David Petraeus is expected to testify before Congress on the rosy progress of the troop "surge" in Iraq on Tuesday despite the overwhelming evidence that the "surge" has been a failure and the civil war in Iraq is out of control.
"By carefully manipulating the statistics, the Bush-Petraeus report will try to persuade us that violence in Iraq is decreasing and thus the surge is working," Sen. Dick Durbin of Illinois said at a Washington think tank.
Durbin, a war critic, said that for a long period of time he has exchanged e-mail with civilian employees who were gathering data for the report and writing draft portions of the findings.
"Some of them I correspond with almost on a daily basis. And when they sent a discouraging report about things that were happening in Baghdad, they were reminded by their superiors that's unacceptable; we need a positive report. They were sent back for editing changes. Now that's a fact," Durbin said.
© AR News
---