Disgraced Republican Craig to withdraw guilty plea
September 10, 2007
Washington, DC - Republican senator Larry "Family Values" Craig, arrested in a airport restroom attempting gay sex with a policeman, is filing papers Monday to withdraw his guilty plea from the humiliating incident in June at the Minneapolis-St. Paul International Airport.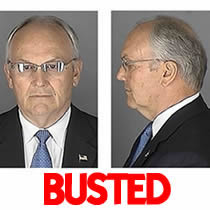 Craig's attorneys will argue that the Idaho Republican suffered a "manifest injustice" at the hands of the police officer who arrested him in a men's room at the airport, Martin said.
"Senator Craig stepped into that bathroom to do a perfectly legal function," Martin said. "We would show that he had no intent to engage in a crime and he was charged with a crime, and pleaded guilty as a convenience to make this go away quickly."
Martin explained that the reason Craig pled guilty was that he was under a tremendous amount of pressure at the time and not of sound mind. According to Martin, prior to his arrest, Craig had undergone an extensive round of questioning by the Idaho Statesman newspaper, which was threatening to publish a report that he was gay. The report was said to include pictures from gay bars, according to Martin.
Craig, 62, pleaded guilty to the misdemeanor charge in August and tried to cover it up.
He announced Sept. 1 that he would resign at the end of the month, but told Senate leaders last week that he would remain in office if he was able to get the plea overturned.
Martin said Craig intents to "fight this all the way through."
"It will take as long as it takes," he said.
© AR News
---