Suspect Doolittle says he'll fight subpoenas
September 27, 2007
Los Angeles, California - Republican congressman John Doolittle says he will not comply with subpoenas seeking more than 11 years of legislative records from his office and staff in connection with an ongoing federal probe.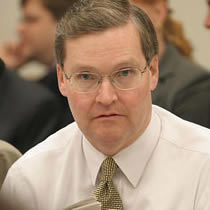 Doolittle's attorney David Barger said in a news release issued Thursday, "These efforts raise serious constitutional issues going to the very core of our separation of powers created by the Founding Fathers."
Rep. Doolittle on Thursday notified House Speaker Nancy Pelosi of the subpoenas, originally issued Sept. 17, his lawyer said. Five aides subpoenaed at the same time have been told to appear before a grand jury as witnesses, the attorney, David Barger, said in a written statement.
FBI agents raided Doolittle's suburban Washington home in April, looking for records of his wife's consulting business. Julie Doolittle's consulting firm, Sierra Dominion Financial Solutions, has worked for disgraced lobbyist Jack Abramoff, as a lobbying firm and as a fund-raiser for the congressman.
Rep. Doolittle represents California's 4th Congressional District, which traces the Sierra Nevadas north of Sacramento. The day after the search of his home, he announced he was giving up his post on the House Appropriations Committee while the investigation continued.
© AlaskaReport.com
---