Alaska State Rep. Anderson arrested for corruption
December 8th, 2006
Juneau, Alaska - The FBI has arrested state Republican Rep. Tom Anderson on public corruption charges relating to the raids of state lawmakers offices last August. Anderson's wife is Republican state lawmaker Lesil McGuire.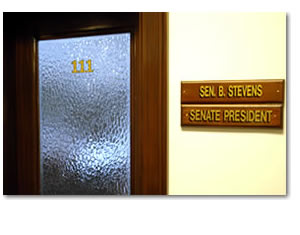 The Department of Justice will release the federal charging documents today, according to FBI spokesman Eric Gonzalez.
Gonzalez said there was a federal warrant for Anderson's arrest "in connection with a public corruption probe."
Anderson was elected to the state House four years ago, yet still kept his consulting business as an adviser for clients including VECO.
In August, 2006 the FBI raided several legislative offices throughout Alaska.
The offices of Anchorage senators Ben Stevens and John Cowdery and Nome senator Donny Olson were all searched, as were offices of Reps. Pete Kott, R-Eagle River, Vic Koehring, R-Wasilla and Bruce Weyrauch, R-Juneau.
House Minority Leader Ethan Berkowitz suspected corruption during a debate over an oil tax in Juneau. "This is our floor. Our floor. No telephone calls are supposed to change what we're doing. No lobbyist is supposed to peer over the railing and tell us to change our mind. Never should happen."
Tom Anderson and Ben Stevens have been criticized in the past for taking consulting contracts from oil-related firms, including VECO Corp., without disclosing exactly what they do according in a report from KTUU.com.
Repeated phone calls and e-mails to Anderson's office for comment were not returned.
Related Stories:
4 more warrants issued as criminal probe intensifies after FBI raids on Alaska legislators

AlaskaReport.com has uncovered exclusive information about the FBI/IRS raids in Alaska

Don Young Awash In VECO Money
© AlaskaReport News
---