Alaska Republican indicted on 7 corruption felonies including extortion
December 8th, 2006
Juneau, Alaska - Alaska state Rep. Thomas Anderson has been indicted by a federal grand jury on charges of extortion, conspiracy, bribery, and money laundering, the FBI said today.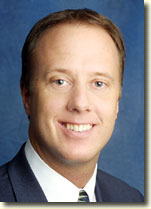 The FBI arrested Anderson on "public corruption" charges yesterday relating to the raids of state lawmakers offices last August. Anderson's wife is Republican state lawmaker Lesil McGuire.
The central targets of the investigation, Alaska State Senate President Ben Stevens and staffers at oil company VECO, have not been arrested as of 9:38am this morning.
Anderson was elected to the state House four years ago yet still kept his consulting business as an adviser for clients including VECO.
Assistant Attorney General Alice S. Fisher said the indictment charges Anderson with two counts of extortion, one count of bribery, one count of conspiracy, and three counts of money laundering in connection with the use of a sham corporation to hide the identity of the bribery payments.
The indictment also alleges that Anderson solicited and received money from an FBI confidential source in exchange for Anderson's agreement to perform official acts to further a business interest represented by the confidential source, the Associated Press reports.
The Associated Press also reports that the indictment alleges from July 2004 to March 2005, Anderson and an individual described in only as "Lobbyist A" solicited and received $26,000 in payments from an FBI confidential source in exchange for Anderson's agreement to act on his behalf in the legislature, according to the statement released from the U.S. Department of Justice.
If convicted on all counts, Anderson faces maximum penalties of 115 years in jail and over $2 million in fines.
The FBI told AlaskaReport.com that Anderson will be arraigned today.
Related Stories:
4 more warrants issued as criminal probe intensifies after FBI raids on Alaska legislators

AlaskaReport.com has uncovered exclusive information about the FBI/IRS raids in Alaska

Don Young Awash In VECO Money

Ben Stevens Secret Fish Deal (ADN.com)
© AlaskaReport News
---